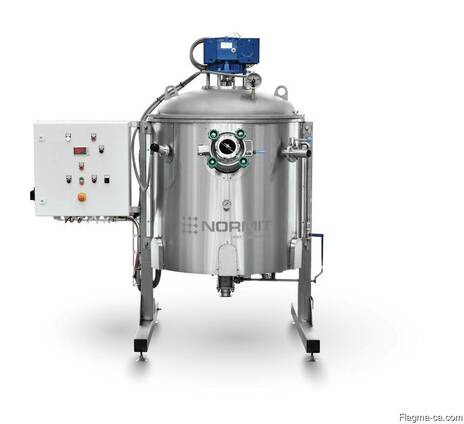 Vacuum evaporator sweetstuff
Boiler for Turkish Delight refers to vacuumevaporation equipment of periodic action with electric heating for processing (mixing, dissolving, boiling, boiling, concentrating) products of different viscosity, equipped
with a built-in condenser, a special form agitator, a discharge device and an additional condensate collection tank. The equipment is intended for use in the food industry.
The mixing device is an enhanced agitator developed specifically to mix high-viscosity products that tend to stick. The stirrer is double-sided and is supplied with a teflon scraper. It mixes the product in the cooking process and when switched to reverse rotation, it helps to unload the finished product.
- High evaporation efficiency.
- Product cooking takes a minimum amount of time.
- The machine is compact and occupies a minimum of space.
- Ability to choose the desired temperature - Evaporation process starts at 40 ° C, it is possible to evaporate even at temperatures up to 115 ° C when caramelization of the product is required.
- Ability to work with a viscous product.
- Even mixing, heat treatment, and simpleunloading
Posted: 8 March 2019, 10:32
views: 2
Similar ads